Varroa EasyCheck was developed by Véto-pharma in 2016 to provide a "ready-to-use" tool, easy-to-use, to obtain a quick and accurate estimation of the mite infestation levels in a hive. The Véto-pharma team then opted for the alcohol wash method, considered the most effective to separate the mites from the bees and widely supported by the technical beekeeping community and professional beekeepers.  Recent investigations in our apiary showed that the Varroa EasyCheck can be used equally with the sugar roll and CO2 injection methods as well. Beekeepers now have 3 methods (alcohol, sugar and CO2) they can select, depending on their preference.
The importance of monitoring mite infestation
Mite infestation monitoring allows you to know precisely the varroa mite pressure in your hives during the year, and therefore to take the decisions that are best suited to the situation to control the infestation. The idea is to avoid at all costs exceeding the infestation thresholds, which could lead to the colony's loss and the re-infestation of other healthier colonies.
The objectives of infestation monitoring are therefore:
Optimize your varroa control strategy, in order to lower the infestation to an acceptable level for your colonies
Identify the most problematic hives in an apiary, pay them special attention, and put in place the necessary actions.
To measure the infestation BEFORE and AFTER treatment (monitoring before treatment is often neglected).
Varroa EasyCheck: 4 years of user experience
When first launched, the Varroa EasyCheck was explicitly designed for alcohol wash. This method consists of immersing a sample of bees in alcohol and then gently shaking the EasyCheck to detach the phoretic mites so they can be counted. It allows greater precision, in addition to being fast and economical, and is widely supported by the technical beekeeping community and professional beekeepers.1-2
Numerous beekeeper testimonials and videos have sprung up on the web worldwide, demonstrating how the Varroa EasyCheck has simplified their lives.
Beyond these positive testimonials, one point often came up in discussions: the fear of sacrificing a bee sample to monitor infestation with Varroa EasyCheck.
We understand this fear, even if we must put it into perspective. The bee colony is indeed made up of tens of thousands of individuals forming a "super-organism". The sample taken generally represents less than 1% of the overall hive population, and the bees are quickly replaced. The sacrifice of 200 to 300 bees serves to improve the colony's health management and more generally of the entire apiary. The practice of alcohol wash gives an accurate diagnosis to adopt the appropriate treatment strategy, and therefore to avoid potential colony mortalities.
However, it soon became apparent that some beekeepers were looking for an alternative solution that would allow them to monitor the infestation without sacrificing a bee sample.
To allow all beekeepers to benefit from a quick, practical, and precise tool for monitoring infestation, we searched for a way to optimize the use of our Varroa EasyCheck with other methods alternative to alcohol wash.
Varroa EasyCheck: tested and approved for sugar roll and CO2 monitoring
In order to extend the use of Varroa EasyCheck to a larger number of beekeepers and help them in their infestation monitoring process, we tested the use of Varroa EasyCheck with two alternative methods: powdered / icing sugar and CO2 injection.
Sugar roll:
The sugar roll method is commonly practiced by beekeepers who do not wish to opt for the alcohol wash method. With this method, the bees are gently rolled with powdered / icing sugar, causing the mites to separate from the bees. The sugar roll keeps the bee sample alive, but the result may vary depending on user experience and humidity (agglomeration of sugar).
The results of the Varroa EasyCheck sugar roll tests in our apiary have validated the use for this method, allowing us now to propose recommendations for use to optimize the monitoring with powdered sugar: www.varroa-easycheck.com/sugar-roll
CO2 injection:
In the CO2 method, bees and mites are anesthetized by exposure to carbon dioxide gas. The sample of anesthetized bees is then gently shaken, causing the mites to fall from the bees. The injection of CO2 keeps the bees alive, and a study carried out in Europe showed similar results in terms of precision to those obtained by alcohol wash.2
This method is not widely practiced at present, as there have been no "ready-to-use" devices available at an affordable price until now. By testing the Varroa EasyCheck with CO2 our goal was to optimize its use to make it accessible to all beekeepers.
Just like for the powdered /icing sugar method, tests carried out by our team with the Varroa EasyCheck have validated the use of the CO2 injection method.
We therefore offer recommendations for use on this link: www.varroa-easycheck.com/co2-injection
Note that the CO2 method requires the purchase of a CO2 injector, which will soon be offered in our range of products. Thus, beekeepers will
finally have access to a "ready-to-use" method, and at an affordable price, to carry out their CO2 infestation monitoring.
Varroa EasyCheck: 3 methods combined in 1 tool!
Today, we are proud to offer a tool that makes infestation monitoring fast and accessible to all beekeepers and lets them choose the method that best suits them: alcohol wash, sugar roll or CO2 injection.
You can find all the information relating to the 3 monitoring methods on the website www.varroa-easycheck.com. We have included photo and video tutorials detailing all the steps to monitor your hives with Varroa EasyCheck.
You can purchase Varroa EasyCheck from your beekeeping material supplier: https://www.veto-pharma.eu/distributors
The CO2 injector will soon be available in our catalog, to make CO2 monitoring more accessible for all beekeepers.
---
Have you downloaded our "varroa guide"?
Véto-pharma recently unveiled a new edition of its "Varroa Guide" that describes the detrimental effects of Varroa mite infestations, outlines treatment techniques and restrictions, and educates customers about monitoring as a means of managing mite populations over the long term.
The guide can be downloaded (free of charge) on this link:
https://forms.newsletter.veto-pharma.com/5eff419fb85b5317165fde16/QpeUHumTT-C0zNx_Nl-RjQ/ZUO5hgSkRI2OMoahyjdWwg/form.html
Since its first edition, Véto-pharma printed more than 10,000 copies of the original Varroa Guide in three languages: English, Spanish and French. The new edition of the Guide will be distributed to beekeepers during conferences, tradeshows, and meetings, and will again be translated to provide copies in English, Spanish and French. Bulk quantities of the Guide can also be provided for beekeeping clubs and associations by contacting Veto-pharma via email at info@vetopharma.com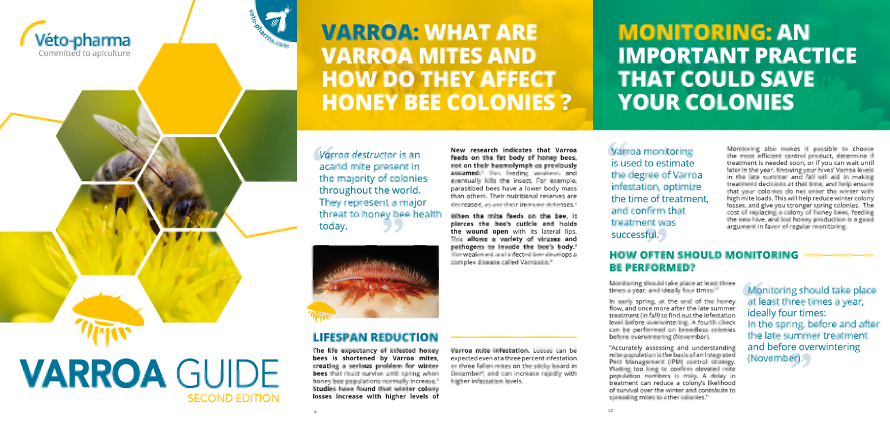 For any questions about Varroa EasyCheck or about monitoring varroa infestation:
+33 1 69 18 84 80
info@vetopharma.com
1- Honey Bee Health Coalition – Tools for Varroa Management 7th edition, Page 7
2- Efficiency of Varroa monitoring methods, the benefits of standardized monitoring devices. Ludovic de Feraudy, Dr. Ulrike Marsky& Ph.D. Jiri Danihlik. – Apimondia 2019 proceeding.