"Relationships are the world's greatest currency. Whether it is your spouse, your partner, your children, your business associates or your friends. I think without those things, we will fizzle out as a society"- Amber LEACH.
The current crisis, (Covid pandemic), has led to a huge disconnection. There has been no eye contact, no handshakes, no in-person meetings. This experience has left us craving a connection, bringing out our authentic selves.
Amber is a self-motivated woman with integrity at the core of her fabric. A virtue she has consciously passed on to her kids, a virtue that characterizes her relationship with her friends and customers. She cherishes relationships and believes they are the underlying factor of human survival. Amber Leach is the new addition to the Véto-pharma's outstanding team and will be serving as the Sales Manager in charge of North America.
Amber lives in Colorado. She attended the University of Rio Grande, where she received her bachelor's degree in Social Science and later in the year 2001, went to Franklin University, where she was awarded her master's degree in Marketing & Communication. Moving forward, she would love to complete Cornell University's master beekeeping class, all in due time. She has been actively involved in the beekeeping industry for the past 6 years. During this time, she has learned, unlearned, relearned, and has gotten to understand bees and beekeeping in general.
Her role at Véto-pharma has to do with her having open-line communication with the company's distributors in USA and Canada. She is charged with the task of working closely with customers, gleaning information from the field, understanding their pain points, what they want, what they love, and what they would love to see change. In simpler terms, she is the liaison between Véto-pharma and its distributors and customers in North America.
Prior to joining Véto-pharma, Amber worked as a pharmaceutical sales manager on the human side for almost 20 years. Her background in the pharmaceutical industry combined, with her love for bees, makes her an asset to the company and the entire industry, especially in North America. When a unique opportunity presented itself, enabling her to combine her professional background and what she loves, she waited no further but took the bull by the horns. In her own words "A great way to marry what I do with what I love, and that is how I got here".
Operation Save the bees
In retrospection, she recounted how her love for bees began. It all started when her kids wanted to save the bees 6 years ago, she thought to herself, okay, I will get on board as well. Amber and her kids started as hobby beekeepers, although she had little knowledge of what the narrative really meant. Fast forward, she started teaching bee classes. She took on the mantle of a president to be of service to a local beekeeping club, it was at this point she really understood what bees mean to our environment and our food system.
Taking care of bees and trying to figure out a better way to do so, also taught her how to take care of herself, those around her, and the environment. For her, beekeeping means bridging the gap somewhat in between where your food comes from and how it gets to your plate and that bled over into all areas of her life. It extends to building a connection with the outdoors (something which is missing from our society today). Beekeeping in Amber's world is a lifestyle and a tradition, one she is willing to pass down to the next generation. She is a proud owner of a family bee farm, where they produce wax products and sell honey on a small scale.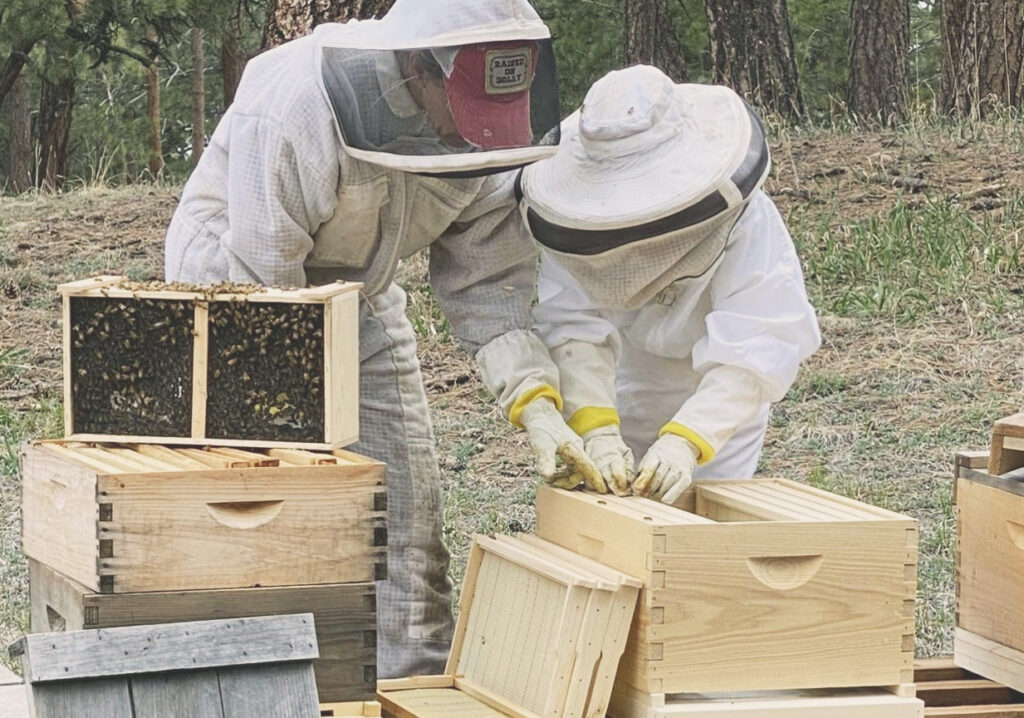 Amber strongly stands by the fact that our food system would crumble without bees. She said, "almost every piece of food we eat can be attributed to bees in some form or fashion. While I do not eat alfalfa, I do eat meat, so there is a symbiotic relationship between bees and most other things."
She finds herself in now, she is of no doubt she could be the change she hopes to see. Ultimately, we are all in this together.
Véto-pharma: The Dream Team
Working in Véto-pharma has been an interesting journey for Amber since she joined the company in November. Each member of the team is super collaborative and supportive. It's all been simple and fun, with literally no barriers. In her own words, she acknowledged that every member of the sales and marketing team has leaned in to help her get her arms around stuff with open feedback from every side, something she appreciates. All these attributes of the company, she opined, will help her execute her takes very well and better serve the US and Canadian beekeepers, considering the tons of resources available at her disposal. It's all a win-win for everyone. "Other people have already walked this road, they've gone ahead of me, and they have different areas of expertise, different opinions, different successes, different failures, and I think when you put all of those together, it really sets up my position for success because I know that whatever question I may have, I will find the answers. I know that we can brainstorm collectively to find a solution and one is only as good as his/her weakest link. I believe that when we all work together, it makes us all better." She is looking forward and hoping to spend more time with Véto-pharma.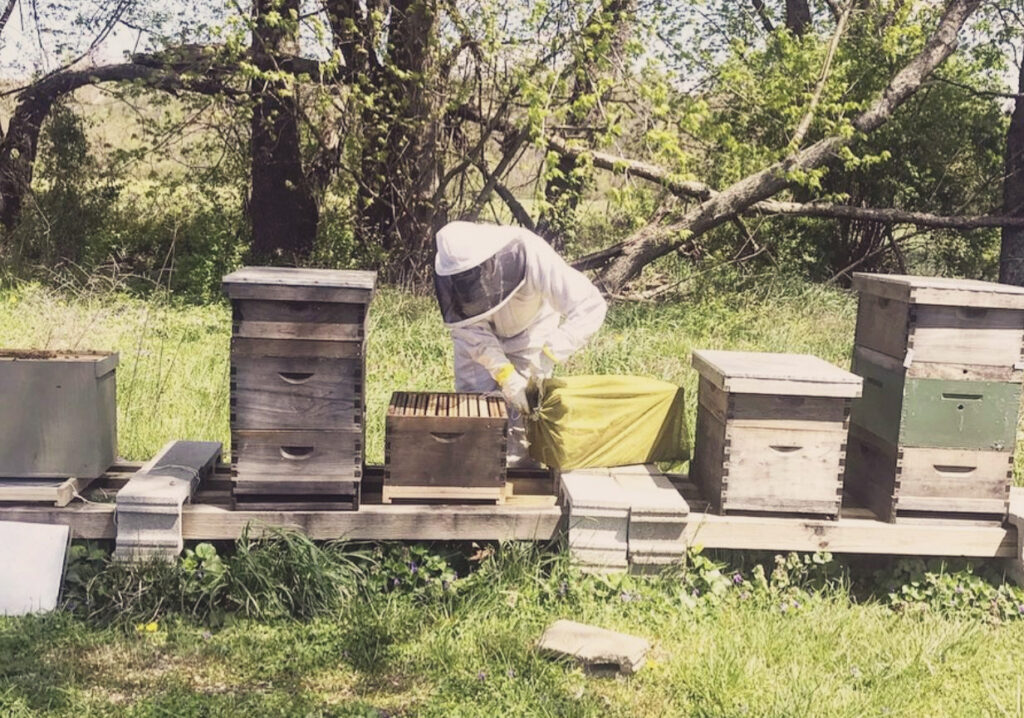 The Beekeeping Industry
When she was asked what her general impression of the beekeeping industry is, she started by sharing a famous saying in America, "if you ask 5 beekeepers for their opinion, you get 6 or 7 opinions". She is of the opinion everybody has diverse ways of doing things, which they all believe to be right. But not all are research-based. Some are just opinions, some are just anecdotal experiences, tactics, or approaches.
According to Amber, the industry has seen an uptick in hobbyists and sideliners because most people were looking for brain breaks and searching for ways to mitigate mental health issues during Covid. The number of inexperienced beekeepers has increased. It put on the shoulders of all stakeholders to come together, form an alliance to help these beginners' beekeepers in the industry grow as well. The engagement of women, young people, and people of color in the industry has also seen an upward trend. The stereotype that the industry is made of older white males is not necessarily the case. Beekeepers are now made of a more robust diverse group, which is an important step in the right direction of the industry, somehow assuring us of a brighter future.
Beekeeping in North America
The industry is dominated by sideliners and hobbyist in most parts of the continent. Practices differ from one region to another, even within the same country. The way people approach issues relating to the industry is so different as well, making it an opinionated industry in her part of the world. Despite the differences, the industry in North America, especially in US and Canada is growing and doing so much better than yesterday.
Industry Challenges
Just like any industry, beekeeping is also with several challenges as well and there is a lot of misinformation out there. People tend to believe and accept anything they are told or read. Some of those are very solid, black and white, non-negotiable things. Amber is of the conviction that the words 'always' and 'never' should be applied to very few things and neither word has a place in beekeeping, parenting or anywhere else. Beekeeping is largely about trusting one's gut feeling, it is more of trial and error, but that does not mean one should follow or copy blindly. Unless you know something is absolutely black or white, do not fail to test things for yourself, as there are exceptions to almost every rule. And of course, the number one challenge remains varroa.
Advice to Beginner Beekeepers
Starting out in this industry is not always easy. Losses may occur here and there; it is, therefore, imperative to be in your hives. Take time to learn how to recognize things and learn more about your new profession. Amber recounts her fear the very first time she came across a drone brood. It took some time for her to learn many things because she failed to live in her hives, a lesson she wishes to share with everyone. It's a lesson she learned the hard way as it resulted in mega loses for her. She said it may have taken even longer for her to learn and experience certain things for herself if she had not made the deliberate effort to go all out and learn.
Be reasonable, smart, proactive and most of all, find good mentors who will lend a helping hand from time to time. Seek knowledge and understanding. By building your knowledge, you will gain confidence that will enable you to avoid some of the more common errors and issues encountered by most beginners.
Before drawing the curtain, if you do not find Amber on her farm, in her office, or having a chit chat with distributors and customers in US and Canada, it probably means she is out there camping, hiking into the mountains, fly fishing or boating.
Her love for nature makes her the best companion to have as a beekeeper wherever you are.
Véto-pharma believes in Amber and wishes her the absolute best. .